Word from the General Manager
Persistence and hardworking have always been my motto.
They are an attitude as a resolution.
I made up my mind to exercise my motto as soon as
I stepped into the industry of motels
in an attempt to establish an urban retreat.
          
                General Manager Bo-Tsun Liu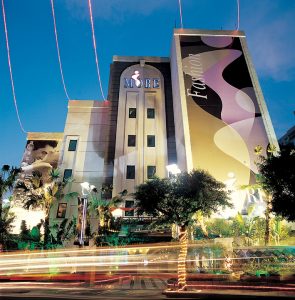 IMORE became the top motel in the industry nationwide after opened for less than half a year.
Later on, IMORE also has been chosen as the top one motel In terms of service, we persist in providing our customers with the best At present, IMORE has made its name and represented the model of modern motels.
We will move ahead towards being the best modern motels in the country in the future with the best quality and service to provide an urban retreat filled with love and romantic atmosphere.
IMORE Is My Motivation of Creating Dreams
have been thinking of this question. How do we create an environment where people living a busy city life can keep away from hustle and bustle and be fully relaxed? This is I come up with IMore. We have created the possibility in each impossible situation. We even established IMore Household Cleaning Department for expansion of the company. We are also the first motel to establish this department nationwide. IMore has been always stick its basic requirement of cleanness to the professional level as the airline standard and decided to extend the service to the general families.
As one of the hotel service providers, it is necessary for us to learn from the top class hotels worldwide and to enjoy fine food. I still remember that I visited a nationally famous five-star hotel restaurant to learn in the first half-year after IMore was opened. I looked at the food set in a plate as an artistic work. I suddenly realized, when I lifted my knife and fork, that persistence exists in the cleanness and brightness. I then decided to abandon the dull and invariable meal packs, and to hire five-start restaurant chefs being charge of meals. Every dish is freshly made and cooked after an order is placed. Seasonal specials in 60 varieties will be served when available. IMore is not only a motel but a top class modern hotel. IMore is a motel with variety as well as with five-star restaurant delicacy and service, all of which is my expectation of IMore. IMore provides a retreat for love and romance so whoever comes here can enjoy top class treatment. When I see parents with children spend their days off at IMore on holidays and those couples who have been here before come back to ask for the venue for their wedding photos, I am proved that the persistence is well worth it.
We need to make efforts to persist as we need courage to pursue love. IMore Modern Motel persists in doing the best. We would provide the best quality of service rather than cut the price to be competitive. We pursue the passionate senses. Courage and persistence can not be valued by money. Anyone who visits IMore will be offered a personal retreat which suits his/her individually as long as he/she comes with love and passion. I like to sincerely invite every important guest to experience love at IMore.